2019 LEXUS LX 570 SPOTLIGHT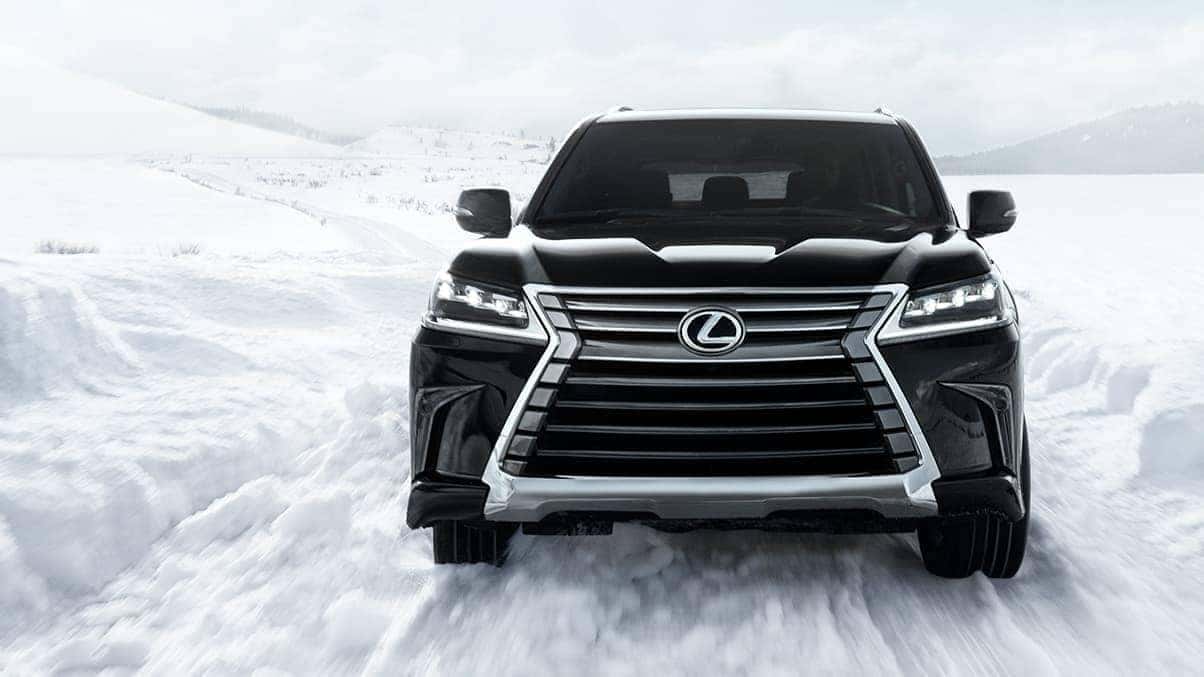 With smooth handling and upscale styling, the Lexus LX 570 is an enticing option for anyone searching for a luxury SUV. With a spacious interior that can fit up to eight people as well as plenty of cargo space, the Lexus LX 570 also features a variety of unique capabilities. With high-quality materials used inside and outside of the cabin, the 2019 Lexus LX 570 is a premium SUV that is extremely luxurious.
New for 2019, the Lexus LX 570 has gone through a facelift of sorts as it has had several key parts swapped out for upgrades. With a naturally aspirated 5.7-liter V-8 engine, the LX 570 maintains 383 horsepower and 403 lb-ft of torque, which allow the Lexus to power through anything that you could throw at it.
On the inside, the LX lives up to its branding as a luxury SUV. It features a handsomely styled dash with a premium infotainment system built in with a crisp, detailed display. The LX also offers Android Auto and Apple CarPlay compatibility as well as a whole host of other features. Furthermore, the Lexus LX 570 features wood styling, leather seats, and it has plenty of interior room. In the third row, there is plenty of room for adults to sit comfortably while still keeping enough storage space in the trunk. All in all, the interior of the LX 570 stays true to Lexus's premium form.
This Lexus truly shines in its ability to seamlessly navigate through a variety of terrains. Setting it apart from all other crossovers, the LX 570 was built with off-roading in mind as it features four-wheel drive, a well-built body and frame, and a variety of driving modes. Drivers can choose between a number of terrain modes including: Rock & Dirt, Rock, Loose Rock, Mud & Sand, Mogul, Comfort, Eco, Normal, and Custom. Lexus also built the interior seating with comfort in mind, as the cushioning will help keep you comfortable whenever you hit bumps in the road.
The LX also arrives with a number of safety features including lane departure alert, blind-spot detection, parking sensors, all-speed adaptive cruise control, a 360-degree camera system, and automatic emergency braking. An optional heads-up display is also available for those interested.
The LX 570 is offered in two configurations, and consumers can choose between the standard three-row version or a two-row SUV. Standard features for both of these trim levels include power-folding and auto-dimming mirrors, automatic wipers, running board, a tow hitch, and automatic LED exterior lighting. For the inside, features include keyless ignition, a sunroof, leather upholstery, heated and ventilated front seats, a premium infotainment system with navigation and Bluetooth capabilities, and four-zone automatic climate control.
The Lexus LX 570 is truly a luxurious SUV. If you are interested in test-driving the new Lexus LX 570, be sure to stop by Lexus of Sacramento and check it out. We would love to help you find your dream car!