2019 LEXUS UX – THE BEST GIFTS COME IN SMALL PACKAGES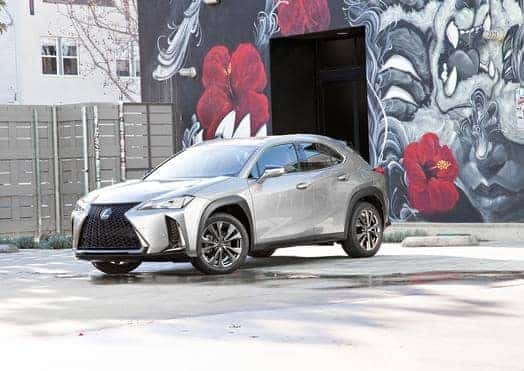 It has been a while coming, but Lexus of Sacramento is delighted, and excited, that the first Lexus subcompact crossover, the UX, will be making its debut this December. Small crossovers are exceptionally popular, and we are confident that the new UX200 and UX250 will be game changers for drivers who appreciate excellence and have to navigate (and park on) the streets of Sacramento.
Not surprisingly, the UX follows the Lexus design trend of a head turning exterior and a subtle, upscale, interior filled with intuitive technology. Still, this vehicle will captivate even the most jaded Lexus enthusiast. They won't be in our showroom until December (are you Christmas shopping yet?) but we think it's appropriate to share some of the features that will make this crossover a superstar in the luxury subcompact class.
Aggressive Yes – But Elegant Too
The 2019 Lexus UX crossover is 177″ long and every inch is worthy of a close look. The exterior is an aggressive, dynamic shell starting with the iconic Lexus spindle grill to the taillights that run the full length of the rear. With its dagger eye headlamps, sculpted hood and creased body, the UX has a formidable appearance from every angle.
When it arrives, our guests will have a choice of two powerplants. The UX200 is equipped with a 4-cylider gas engine that generates 168 horsepower. The UX250 is a hybrid that adds two electric motors to the 4-cylinder for a combined horsepower of 175. One of the motors directly powers the rear axle giving the vehicle with electronic-all-wheel-drive. Both powerplants are mated to a CVS transmission.
A low center of gravity and a turning radius of 35′ will make the UX an agile performer in Sacramento traffic. Its compact size will increase parking opportunities as well.
The interior is what you would expect from any Lexus: upscale materials, well organized dash and instrument cluster, and a sense of exclusivity.
New Technologies for a New Crossover
One of the technical features that we especially like in the UX250 is its predictive energy-saving systems. As you get to know the car, the car gets to know you. It can learn your commute and remember where and when you brake or come to a stop on your daily drive. With this knowledge, it will turn on the regenerative braking system earlier, recharging the nickel metal-hydride battery. It can also use the navigation system to predict hills to anticipate power drains and regeneration opportunities.
Both the UX200 and UX250 will come standard with automatic emergency braking and adaptive cruise control systems. New is a safety system that can detect and brake for pedestrians and cyclists regardless of glare during daylight hours. Optionally, the crossover can be equipped with automatic high-beam headlights, road sign recognition, and active lane keeping safety systems.
Now we aren't suggesting that the UX is a sports car, but adaptive dampers are available on both models as part of the F-SPORT Package.
We look forward to the arrival of the 2019 Lexus UX and we hope we have stirred enough interest in you to want to test drive one of these when they become available. If you don't know us yet, we encourage you to visit us and see what service looks like when the customer means everything. Learn a bit more about us and we hope to see you soon.