LEXUS, F PERFORMANCE SPEED INTO THE FUTURE AS MAJOR PLAYER IN AMERICAN SPORTSCAR RACING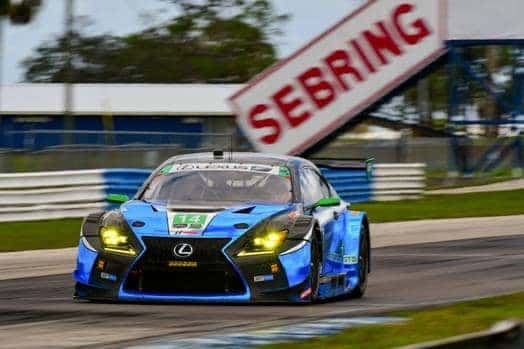 The world of sportscar racing is driven by manufacturers looking to put their most innovative technology and designs on the grandest of stages – the track. The International Motor Sports Association (IMSA) has been giving vehicle makers the opportunity to compete since the late 1960s, but it's Lexus that has been grabbing headlines in recent years, thanks to a solidified commitment to motorsports excellence.
Lexus' performance models – labeled 'F' – began their story in 2008 with the launch of the IS F sedan, and later with the limited production, exotic LFA coupe in 2012. Today, the high performance line of Lexus cars includes the RC F, GS F, and LC 500. In 2018 IMSA competition, the RC F GT3 edition is taking the field by storm, with two season-long entries in the WeatherTech SportsCar Championship, known as the premiere sportscar series in North America. Jack Hawksworth, a former INDYCAR competitor, headlines this year's driver lineup, which is loaded with experience from around the globe.
In the season-opening Rolex 24 at Daytona – one of the world's richest and most revered 24-hour endurance races – both pf the new Lexus RC F GT3's took the checkered flag, a difficult feat for both man and machine. The No. 15 team, led by Hawksworth, earned a Top-10 finish (9th), while the No. 14 finished in 15th.
"If you look at the whole race, the drivers and team pretty much executed a flawless race. No major penalties, no major mistakes," said Kyle Marcelli, co-driver of the No. 14 RC F GT3. "We had one hiccup at hour six, but all in all a really good job. Half the battle of these 24-hour races is just finishing."
Lexus V8 engines have enjoyed success in American sports car competition in the past, earning prototype wins at Daytona in 2006, 2007, and 2008. Now in GT competition, the luxury lifestyle brand hopes to replicate, and even surpass, that success.
"When you have one pole position, set a track record, a couple of fast laps by Jack Hawksworth and a bunch of top-10s, you know the car is there," said Lexus motorsports manager Mark Egger last season. "Putting all the pieces together is what we need; pit lane infractions and other items prevented some of that, but we move on and the next race is right around the corner."
Back at Daytona this year, driving legend Scott Pruett announced that in his retirement, he will continue as a brand ambassador for Lexus. The 57-year-old Hall of Famer will serve as a brand advocate, while also assisting with product testing and development of Lexus cars, Lexus Performance Driving School events, select Lexus at-track experiences, and special appearances at Lexus brand events.
"Having the opportunity to be part of Lexus' launch of the F performance story from the very beginning has been such an exciting opportunity for me," Pruett said during a February news conference. "This has allowed me to bring insight from my 50 years of varied experiences to the program and I believe this is just the beginning of even greater things you'll see Lexus bringing forward in the future."
The twin Lexus teams are slated to complete the entire IMSA WeatherTech SportsCar Championship schedule in 2018, with schedules, news, and ticket information available at WWW.IMSA.COM and/or WWW.3GT-RACING.COM.