LEXUS LOOKING AHEAD TO CAR-TO-CAR COMMUNICATION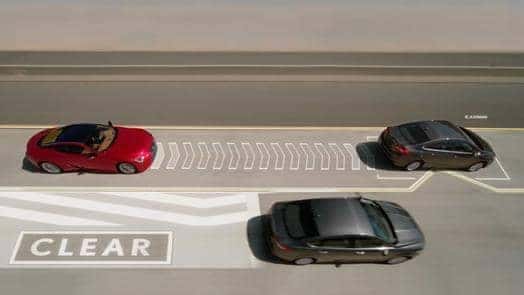 With each passing year, automakers around the world are putting their best foot forward in the race to provide consumers with the safest possible vehicles. Some of the more visible innovations throughout over time have included blind spot monitoring, rearview cameras, and corrective/automatic braking and steering. While it's safe to say that countless accidents have been thwarted by these developments alone, another potential industry-changing debut is on its way.
Toyota, Lexus' parent company, announced recently that some of its models will come equipped with 'vehicle-to-vehicle' communication technology that will allow its vehicles to "talk" to each other and their surrounding environments. The Dedicated Short-Range Communications system is expected to debut by 2021 in both Toyota and Lexus brands, allowing vehicles equipped with the feature to send signals as far as 984 feet.
Toyota North America CEO Jim Lentz noted several other interesting bits of information during his announcement, and we've summed them up for you below:
A helping hand: The system's capabilities are expected to provide drivers with "real-time information" during travel. This may include warnings about slow or stopped vehicles, signs, bad road conditions, and other potential hazards that "may be difficult to see." Each car or truck itself would transmit data including location, direction, and speed to nearby vehicles.
No cellular networks: With the DSRC operating on a spectrum dedicated to "intelligent transportation systems", enabled cars won't need subscriptions to traditional cellular networks in order to operate. So, no need to worry about that data overage.
Already in action: Japan is currently home to over 100,000 vehicles currently equipped with DSRC, which debuted there in 2015. Toyota hopes that its announcement of the technology will spur other automakers to follow suit, creating an environment full of companion cars, along with safer roads and highways.
Federal take: In 2016, the Obama administration proposed requiring the technology and giving automakers at least four years to comply, ensuring all vehicles "speak the same language through a standard technology". Last year, the National Highway Traffic Safety Administration said the regulation could eventually cost between $135 and $300 per new vehicle, or up to $5 billion annually. However, up to 600,000 accidents could be avoided each year, reducing costs by a whopping $71 billion. NHTSA has not made a final decision on future legislation.
It's quite an impressive announcement from the automaker that continually sets the bar in terms of innovation and safety. If you are among those buying a Lexus in between 2020 and 2021, don't be surprised if the Dedicated Short-Range Communications system is among your features.
Don't want to wait that long to purchase or lease your next Lexus? Don't delay – visit the friendly and helpful staff at Lexus of Sacramento today to learn more about the 2018 and 2019 product lines, and take a test drive. Our goal is always to find your "perfect" match, and with our massive inventory, it's probably already here.