SEVEN SEAT RX MODEL PERFECT FOR FAMILIES, THOSE CRAVING SPACE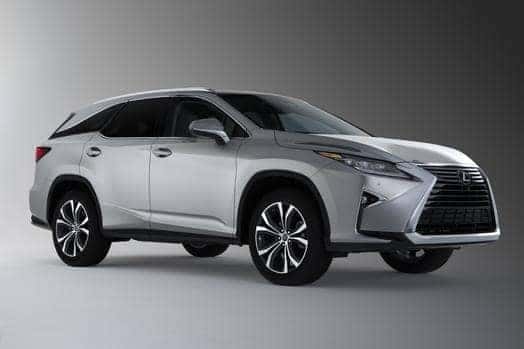 Are you in the market for a Lexus hybrid but need some extra space for your family? If you are, Lexus is about to you a very happy customer.
With the launch of the Lexus seven-seat RX350L, a longer bodied RX 350 by 4.3 inches, the automaker now has a stretched version of one of its more popular models. Perhaps its biggest selling point, the RX350L can haul up to seven passengers with the option of standard seating with a middle-row bench seat or with six middle-row captain's chairs.
The vehicle is "perfect for families who want a premium self-charging hybrid but who require that third-row seating for children and still have room in the boot for luggage and all that comes with a bigger family," said Ian Corbett, head of Lexus Ireland, speaking in a press release about the Irish counterpart of the release. [The RX350L] has a range of unique advantages to enhance the comfort of seven passengers as well as our latest Lexus Safety System technology."
While space for the additional row was indeed taken from the vehicle's rear cargo area, there remains enough space to stash a stroller or several carry-on suitcases. Of course, there is also the option of putting the seats (power-folding feature is included, of course!) down when they aren't in use, and adding storage space that way.
Drivetrain options for the RX350L carry over from the original two-row version, with the 3.5-Liter V6 sending 290 HP and 263 lb-ft of twist to the front wheels on standard issue cars. All-wheel drive is optional, but adding the feature will cost $1,400. Lexus also offers the longer version of its RX SUV with a hybrid driveline: the RX-450HL adds two electric motors into the mix – netting 18 HP over the standard 3.5-liter V6 for a grand total of 308 HP.
It's also worth noting that a 12.3-inch infotainment screen, prominently placed in the center of the dashboard, making it easily visible to both passenger and driver. This, along with soft stitching lining the edges of the center console, make for an enjoyable driving/riding experience. Climate-control options in each row bring the comfort all the way back to the new row.
The Lexus RX350L began hitting dealer lots in January 2018 as models, with a starting price tag of $48,665. With more and more people shifting to three-row crossovers, Lexus' addition to one of its more popular models was a natural opportunity. After all, according to Auto Week, the mid-size premium crossover utility market is up around 5 percent or so in sales year-over-year, and the Lexus RX (with 108,307 sales in 2017) is by far the best seller.
If you'd like to learn more about the Lexus RX350L, don't hesitate to stop by your friendly neighborhood Lexus dealer, Lexus of Sacramento, and our staff would be happy to introduce you to one of the newest members of the Lexus family.