THE 2019 LEXUS ES 350 – THE KENTUCKY TOUCH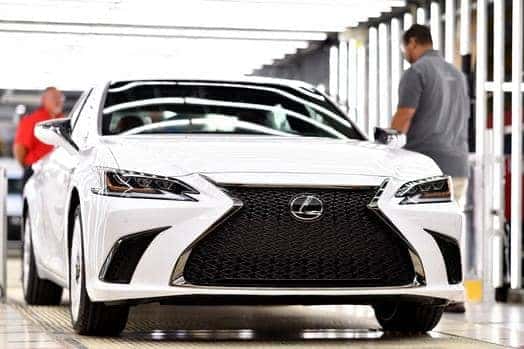 Kentucky is known for its thoroughbred racing and smooth single barrel bourbon. But it's about to become famous as the home of some incredibly talented car builders as well. Our team of craftspeople building the new 2019 Lexus 350 in our Georgetown, KY plant, are producing a luxury sedan that's going to dazzle that market segment.
The 2019 Lexus ES 350 is built on the all-new Lexus Global Architecture platform that enables the Kentuckians to craft a version of the luxury sedan that is longer, lower, and wider than before, with wheels pushed closer to the corners. The net result is a more rigid chassis with outstanding handling performance. Toss in a 3.5L V6 tuned to deliver 50 more horsepower than last year and pair it with an 8-speed transmission and you have a sedan with distinctively sporty driving dynamics.
And the Kentuckians have upped the bar on interiors as well. Beautiful, spacious, and quiet are the first impressions. You can't help but admire the perfect fit, upscale soft touch materials, and attention to detail right down to the accent stitching. Loaded with technology including Apple Car Play and Amazon Alexa (yes, she's now in your car), a premium sound system and the incredible, class-leading Lexus Safety System, the ES 350 provides a rewarding driving experience with an unexpected performance punch to liven things up a little.
A Luxury Sedan Built With a "Kentucky Touch"
The Georgetown line, which opened its doors just three short years ago, is as big a part of this story as the sleek compilation of performance and luxury that the 2019 ES 350 is. For decades, Americans believed that Japan and Germany were the only car builders who could design and produce high quality, excellently engineered automobiles. Now, as Toyota always believed, and BMW has learned first hand in South Carolina, Americans can craft vehicles equal to or better than their home nation plants.
How did that happen?
In the Georgetown instance, Lexus spent more than 150,000 hours training our 800 team members to build an ES model that delivers a higher level of performance than previous generations. Lexus sensory training is a key element in producing superior products. For example, the Lexus sensory training teaches assemblers and others, to feel for an abnormality as minute as a piece of hair. The presumption is that a properly trained team member can use his or her eyesight, hearing and touch to identify potential defects better than any machine. Welders are trained to feel gap differences measured in fractions as little as 0.3 millimeters…with gloves on.
Does it work? The Kentucky facility has received three consecutive J.D. Powers Initial Quality Study awards making it one of the most respected production lines in the world. The Lexus team in Kentucky is proud of their work as they have every right to be. Why not see their handiwork firsthand? Check out our online inventory and call to arrange a personal test drive of a 2019 Lexus ES 350 built with a Kentucky touch.