THE SPRING L/CERTIFIED SALES EVENT AT LEXUS OF SACRAMENTO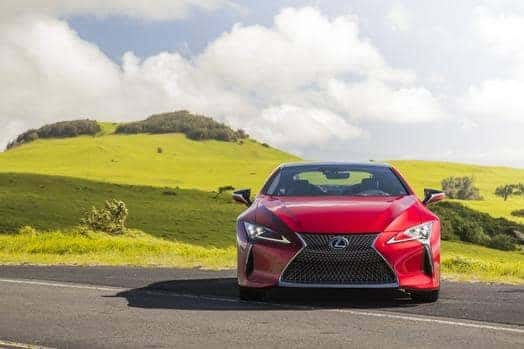 With summer approaching in the Sacramento area, what better time to find yourself in a brand new Lexus? If you just thought "you're right!" to yourself, we are here to help with a few reasons to visit your friends at Lexus of Sacramento today.
The Spring Collection L/Certified Sales Event is going on now!
For the next two months, take advantage of special offers on L/Certified models, exclusively at Lexus of Sacramento. Receive 2.9% APR up to 60 months on IS, IS F, ES, ESh, RX & RXh models. The included warrantee is up to six years, unlimited mileage (this covers more than just oil changes, includes regular maintenance services both minor and major!) Through taking advantage of this with four services in two years, you could easily save up to $2,000. No need to pinch yourself, this isn't a dream.
Location, location, location.
Your Sacramento Lexus Dealer is nestled conveniently at 2600 Fulton Avenue in Sacramento, putting the luxury showroom just a short drive from those throughout the area. Combined with the first-class service you have come to expect with our team, there's no reason to keep from stopping by for a visit.
Huge selection.
With nearly 200 vehicles on site, Lexus of Sacramento offers one of the most impressive vehicle inventories in the area. Sit in the luxury car or SUV of your dreams, or take it out on a test drive. With such a large selection and personalized service from our dedicated staff, we'll be sure to find your perfect match! Count on it.
Excellent service.
Service at Lexus of Sacramento was ranked in the 2017 Top-10 of the Lexus Western Area OSAT rankings! There is no one more qualified to service your vehicle than our highly trained technicians at our state-of-the-art facility. Our team has made us a "Lexus Elite Dealer" for nearly two decades, and we work hard to ensure that such an experience carries over to your service experience. Whether you are in for an oil change, tire rotation, or something larger, expect nothing less than the best.
Outstanding customer reviews.
Why should you buy, lease, or service your next vehicle from Lexus of Sacramento? Don't take it from us – check out a few of this month's testimonials available on our website at www.lexusofsacramento.com:
"The service requested on our car was completed promptly and efficiently. Loved working with Christina Carson, she is so personable and a great representative of Lexus." – Lexus Lover (April 15, 2018)
"Honest, caring, they listen to your needs and they make sure the experience of purchasing or servicing your vehicle pleasant. I received a follow-up call to make sure that everything was great and it was!" – Lexus Girl (April 6, 2018)
"Kent was a pleasure to work with and made negotiating hassle-free. This is why we leased our third vehicle from him and plan to do so in the future." – Anjana (April 4, 2018)
The team at Lexus of Sacramento looks forward to welcoming you to our dealership, and showing you firsthand why we have become a model facility for Lexus. For more information, please don't hesitate to contact us through our website, or by calling (877) 934-2546.